Home

From 1981 to 1987 Armstrong-CCM manufactured trials motorcycles alongside their motocross, enduro and road-racing models.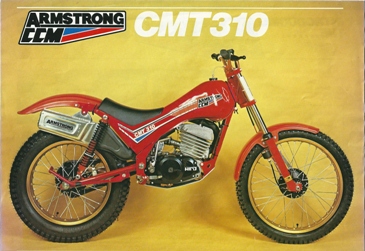 The twin-shock models were very successful and could be seen at trials of all levels in the early 1980's, although nowhere near as common as Fantics, Yamahas, Bultacos and SWMs etc. The mono-shock versions never achieved the same level of results and were quite rare even when new.
By the late 1980's twin-shock bikes were obsolete and with a near total lack of spares for the earlier engines, many bikes were wrecked as field-bikes, dismantled or just abandoned.
With the resurgence of interest in twin-shock trials, '70's and early '80's bikes like Fantics, Honda TLRs, Beamish Suzukis, Bultacos have become prized possessions with many parts suppliers and specialists in the market. Armstrongs are no exception, particularly as they were very competitive when new, quite rare and notionally British.
This site is about the Armstrong-CCM trials bikes - their history, model details, technical details and competition successes.  I hope it will also become a forum for enthusiasts and a source for parts and information. If you have any brochures, manuals or any other information that isn't on the site, please get in touch.
The site does not cover the earlier CCM 4-stroke trials bikes or any of the other Armstrong MX, Enduro or Miltary bikes.
I am always looking for factory brochures, parts lists & manuals, so please let me know if you have anything.
Material on this site has been collected from a number of public sources and personal experience and all copyright is fully acknowledged. If anyone believes that any copyright has been infringed, please get in touch. If one of your pictures have been used and you have not been credited, please get in contact to ensure your picture is credited.
Latest updates: Feb 2015, Added more items to shop page