History
Armstrong trials bikes enjoyed huge success in the UK in the mid-1980's, with Steve Saunders taking two British ACU Trials Championships in 1984 and 1985 and John Lampkin performing well in world rounds.
It might seem strange that a small UK manufacturer could come from virtually nowhere to achieve this success so quickly, but this is no surprise when you consider that these bikes were the outcome of behind the scenes work that had been going on for years before by two of the biggest names in British off-road motorcycling – Sammy Miller and CCM.
In the 1970's, trials legend Sammy Miller had asked Alan Clews – CCM's founder and no mean trials rider himself, for a four-stroke engine suitable for trials use, but supplying the engine alone would not have been cost effective so nothing became of it.
The idea of a complete trials bike appealed to CCM and a four-stroke prototype was built by February 1978. Despite further development, the bike never became a top-level competitive bike but nevertheless the first batch of 105 bikes sold-out quickly.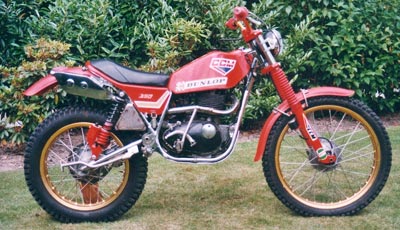 Despite the promise of easily selling another batch of 100, no more were made – mainly because the CCM works were set up to make B50 based motocrossers, not the B44 based trials units which would have been a distraction.
In January 1979 Sammy Miller agreed to develop a trials engine for the Italian Hiro company, based on their 250 two-stroke motocross engine – which coincidentally was about to be used in a new range of CCM motocross bikes. In parallel with engine development, Miller developed the frame and cycle parts for a complete trials machine which he planned to manufacture independently – the Hiro-Miller.
The first engine was of 310cc (78mm x 64mm) and used a Mikuni carburettor and Motoplat ignition. In June 1979 the complete motorcycle, ridden by Miller himself, made a winning debut in an XHG Tiger's event. The bike weighed 190lbs, had a ground clearance of 13" and a seat height of 31". At this stage it was envisaged that production of the bike would start later in 1979.
After testing the bike in late 1979, John Metcalfe signed to ride the bike for Miller and rode the bike at a number of events during 1980.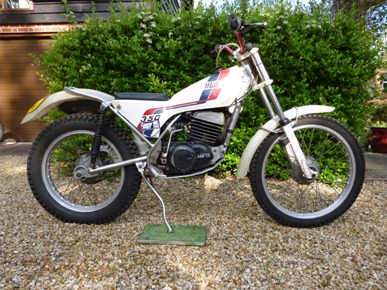 Further development of the engine in 1980 resulted in the capacity being increased to 320cc and it being used in the Aprilia TR340 which had been announced at the 1979 Milan show.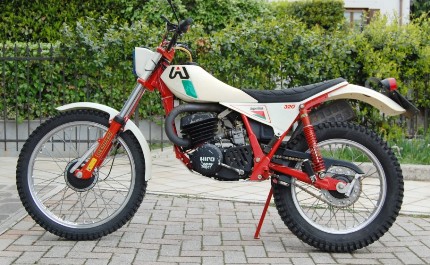 Unfortunately, Miller's own Hiro-Miller project was shelved, mainly due to the enormous investment needed to get it into production just as the 1980 recession was beginning to bite. However, this wasn't all bad news because Miller received royalties from Hiro for engine sales to Aprilia.
In 1981 CCM become part of the Armstrong industrial conglomerate and the idea of a trials bike was resurrected alongside a programme of racing and motocross bikes. Through existing contacts, the new trials bike came together quickly with Mike Eatough designing the chassis around the Hiro 320cc trials engine. The frame was conventional, made of Reynolds 531 tubing with Marzocchi forks and Betor shocks and had some similarities with the 1978 four-stroke.
Nick Jefferies was the test and development rider and the new CMT310 bike, retrospectively called the Mk.1, went on sale in August 1981. In effect the various efforts of Sammy Miller and CCM over the previous few years had come together to make an excellent bike right from the start.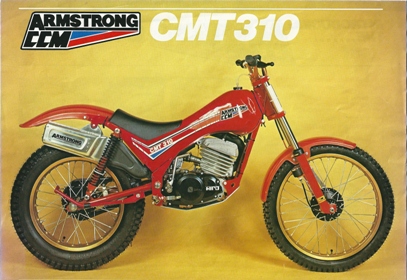 The CMT310 was competitively priced and well received by press and riders alike. Jefferies did well on the bike and John Lampkin was signed for 1982, going on to finish well in world rounds as well as coming sixth in that year's SSDT.
The CMT310 Mk.1 was replaced with the Mk.2 version in April 1982. The Mk.2 implemented a number of practical improvements such as a wider sump shield to protect the vulnerable engine covers, lighter rims, better ignition, improved exhaust and many detail changes. The Mk.2 also saw the introduction of a 250cc version – the CMT250, with a modified frame to suit the centre exhaust port of the smaller engine. John Lampkin left to join Fantic and was replaced by Steve Saunders as Armstrong CCM's top rider.
Around this time Armstrong CCM did a deal with Can-Am of Canada to develop and produce Can-Am's off-road bikes, including trials bikes. This arrangement was carried on for all of Armstrong CCM's subsequent trials bikes, there being a Can-Am badged variant of each one.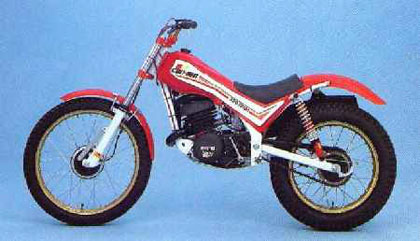 In all respects other than the tank badges and frame numbers, the Can-Am bikes were identical to the Armstrong CCM ones.
After around a year of production of the CMT310 Mk.2, the new CMT320 and CMT250 Mk.3s were introduced in May 1983, incorporating further developments including stiffer square section tubes in the frame, improved engine and exhaust, updated forks, repositioned footrests and further detail changes.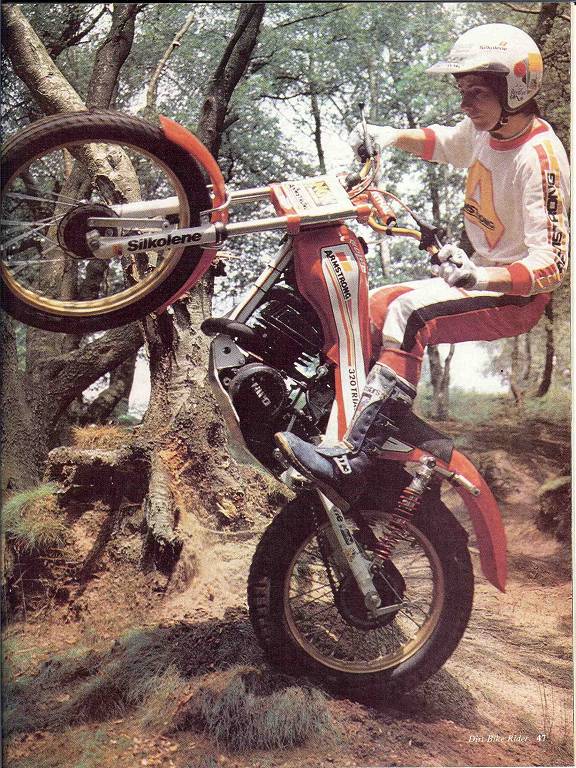 On a works version of the CMT320, Saunders won the British Trials Championship in 1984 and 1985 as well as coming sixth in the SSDT.
Gerald Richardson won the Scott Trial and the bike came to be considered as one of the best twinshock bikes ever made. Sammy Miller also rode a CMT310 to his 1,000th trials win in November 1983. Over 200 Mk.3's were produced in 1983 and 1984, but with Hiro going bust in 1984 sourcing an alternative engine became a major priority.
Armstrong CCM were already using Rotax engines in their motocross bikes, which were also used in the well-established SWM trials bikes, so the Rotax 240 and 350 trials engines were used in a new range of bikes – the CMT240 and CMT350.
Despite a revised frame and better rear suspension, not everyone found the Rotax bikes as tractable as the previous Hiro-engined ones, and less than 100 of the CMT240 & 350 bikes were made in 1984.
By then, the mono-shock revolution had started and Armstrong CCM were busy developing a new mono-shock bike which was unveiled at the Dirt Bike show in late 1984. This bike was not generally available to the riding public, but John Lampkin rode it to victory in some 1985 British Trials rounds as well as putting up a good performance in the Belgian World Trials round.
In 1986, Armstrong CCM made headlines with a new mono-shock bike with a radical aluminium frame in two versions – 240cc or 280cc, both using Rotax engines. At 176lbs it was lighter than the then dominant Yamaha TY250 mono.
Unfortunately it arrived late in the year and coincided with the turmoil that saw CCM sold by Armstrong back to the original founders, so it got off to a shaky start and was never really developed from that point on. Small quantities of the bike were built in 1988 and 1989 before production ceased in April that year.

Production figures for all of the two-stroke trials bikes are estimated as follows:
Model

Quantity produced (approx.)

Date introduced

Date production ceased

CMT310 Mk.1

300

Oct 1981

Mar 1982

CMT310 Mk.2

Apr 1982

 

CMT250 Mk.2

100

Sep 1982

 

CMT320 (Mk.3)

250

Apr 1983

 

CMT250 (Mk.3)

100

Apr 1983

 

CMT240

75

May 1984

May 1985

CMT350

25

Aug 1984

Sep 1985

CMT280

<5

Apr 1985

Apr 1985

240TA (Mono.)

50

Nov 1986

Apr 1989

280TA (Mono.)

30

Nov 1986

Mar 1987